Ground Handling

Ground handling activities are based on global service standards as prescribed by the International Air Transportation Association (IATA) of which Gapura is a member. Gapura is thereby trusted by national and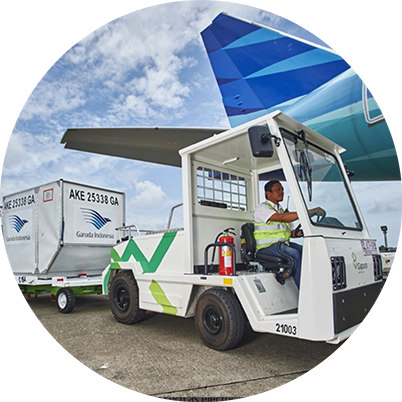 international airlines at the more than 50 airports that the Company currently operates in Indonesia at which we are always ready and prepared to deliver high-quality services to all of our customers.

In line with our vision to become a world-class ground handling company, Gapura strives to be the best service provider in the eyes of our clients. Gapura continuously improves upon its level of service quality through the ongoing enhancement of our Ground Handling services to confidently handle all the needs of our customers; because our clients' success is our success.
Gapura continues to invest in revitalizing its GSE fleet with the latest in advanced technology "ecofriendly" units in order to improve on the efficiency of operational costs, as well as productivity such as electrical battery powered GSE and diesel Euro-3 GSE.

Gapura strives to become an IT-based organization through the utilization of appropriate state-of-the-art technology to fully optimize its ground handling operations.
Gapura is experienced in the handling all types of aircrafts; commercial aircraft, cargo aircraft, private jets and corporate as well as VVIP flights for heads of state.
Gapura Ground Handling Services, in reference to IATA SGHA 2008 :
• Section 1, Representation, Administration & Supervision
• Section 2, Passenger Services
• Section 3, Ramp Services
• Section 4, Load Control, Communications & Flight Operations
• Section 5, Cargo & Mail Services
• Section 6, Support Services
• Section 7, Security
• Section 8, Aircraft Maintenance *On request