17 Jun 2022
Public Relations Corporate Secretary
PT Gapura Angkasa, the largest Ground Handling in Indonesia with 41 branches spread throughout Indonesia, has a very important role in the aspects of providing safety, security and comfort of aircraft passengers.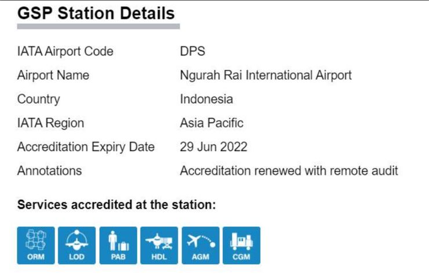 As a member of IATA (International Air Transport Association) PT Gapura Angkasa has already obtained the ISAGO (IATA Safety Audit for Ground Operations) certification which is used to measure the performance of Ground Service Provider (GSP) at several of its branch offices.
The spirit of 3S+1C (Safety, Security, Service & Compliance) is PT Gapura Angkasa's strong commitment in an effort to continue to make improvements to the aspect of safety, security and comfort of aircraft passengers.
One of the concrete evidence is by making maximum efforts to regain IATA's trust in maintaining ISAGO certification at the Ngurah Rai Airport branch office, Bali.
The team led by Mr. Oka Tiaksa as General Manager of Ngurah Rai Airport Branch in coordination with the SSQ (Safety, Security & Quality) unit at the head office of PT Gapura Angkasa has successfully delivered appraised evaluation points to 2 (two) IATA Auditors from India, namely Mr. Atul Garg as Lead Auditor and Mr. Raj Vijay Vargiya. This resulting PT Gapura Angkasa Ngurah Rai Airport Branch, Bali, entitled to ISAGO accreditation through remote audit evaluation result from 27 to 29 June 2021.
This earnest effort finally paid off, on this day, Friday, August 20th, 2021, IATA has granted Denpasar Branch as the Station accredited with the completeness of the ISAGO Remote Audit which accreditation status valids until June 29, 2022.
This ISAGO accreditation provides enormous benefits to PT Gapura Angkasa in general and the Denpasar Branch in particular in improving quality service, safety performance, reducing incidents/accidents and providing a better understanding of hazard risks in work operation, as well as legitimizing PT Gapura Angkasa's Denpasar Branch has complied with the provisions of international safety provisions set by IATA.