18 Jul 2022
Public Relations PT Gapura Angkasa
Japan Airlines (JAL) currently entered 60 years of flying the Jakarta–Tokyo route since 1962. To commemorate this, JAL held an event on Saturday, July 16, 2022, at departure gate 8, Terminal 3 of Soekarno-Hatta Airport. The commemoration was attended by the Japanese Ambassador to Indonesia Mr. Kenji Kanasugi, Senior Vice President Asia & Oceania Region Mr. Takahisa Hatakeyama, Senior Vice President of Route Marketing International Relations and Alliance JAL, Country Manager of JAL Mr. Kiyoshi Kato, Station Manager JAL CGK Mr. Amane Murayama, also attended by Director of Operations & Engineering PT Gapura Angkasa Capt. Andreas Eko Novianto and General Manager of PT Gapura Angkasa, Cengkareng Mr. AA Made Hardika.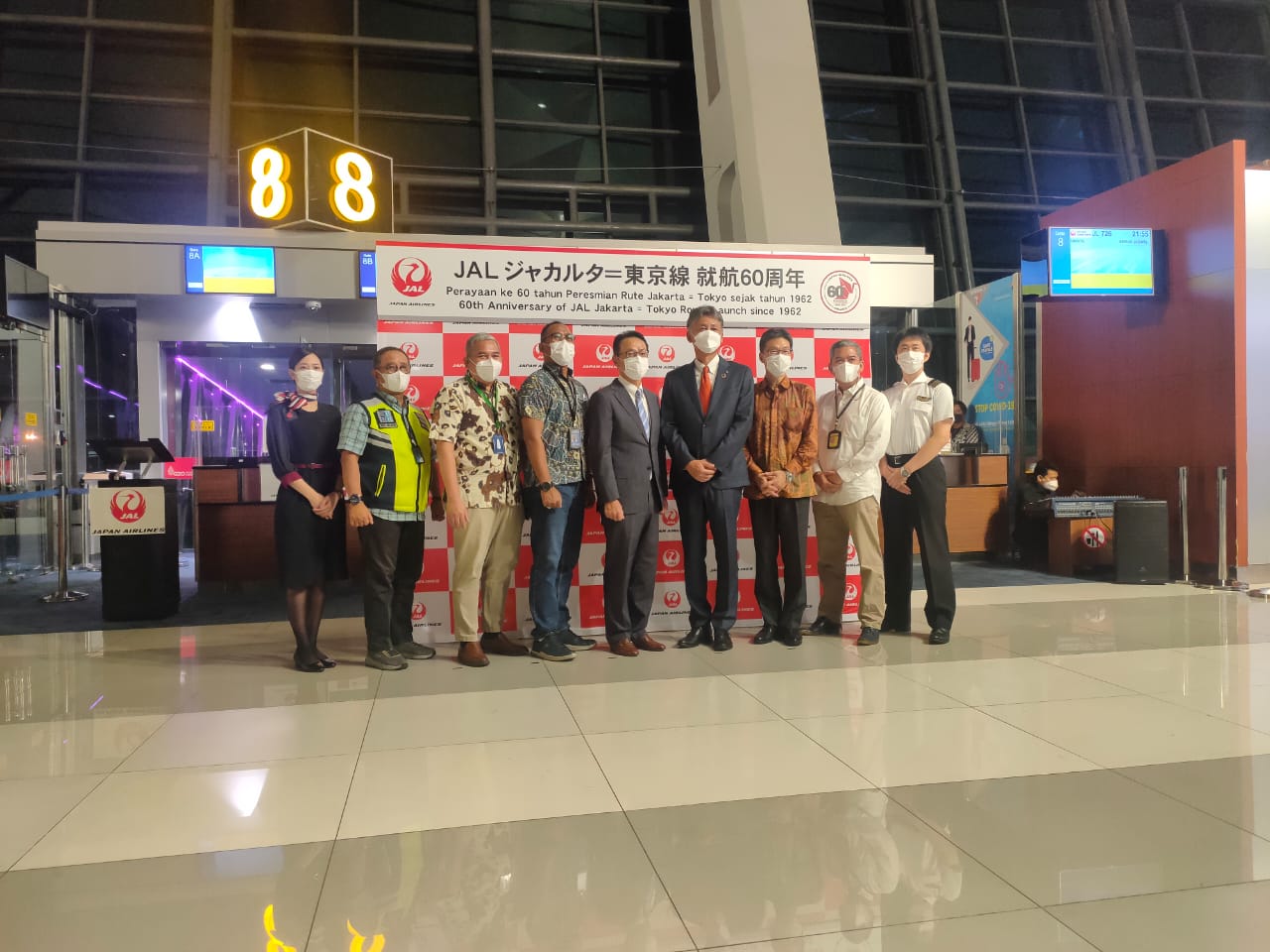 The Japanese Ambassador to the Republic of Indonesia, Mr. Kenji Kanasugi, in particular gave a speech and congratulation on the 60th anniversary of the Jakarta-Tokyo JAL flight. The route is a strong testament to the friendship between Japan and Indonesia since the commencement of diplomatic relations on January 20, 1958.
Mr. Takahisa Hatakeyama in his remarks invited more Indonesians to fly with JAL to visit Japan. Mr. AA Made Hardika in particular congratulated JAL for celebrating 60 years of the Jakarta-Tokyo flight. He also expressed his gratitude for the trust that JAL has given to Gapura Angkasa since the inception of Gapura Angkasa in 1998. Gapura Angkasa is always committed to supporting JAL in improving services, both to passengers and cargo through excellent performance.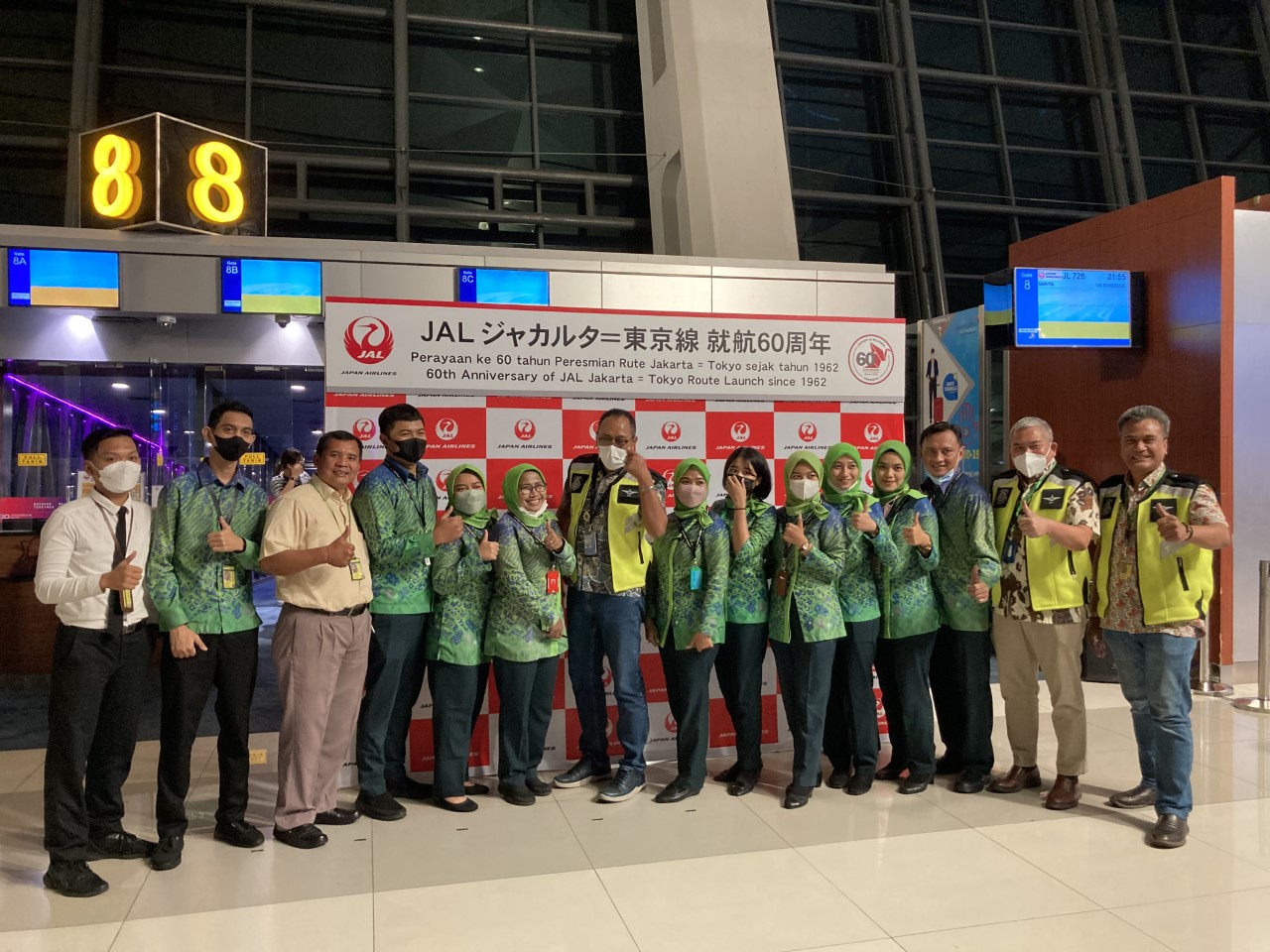 On the same occasion Capt. Andreas Eko Novianto gave a charter as a form of appreciation to JAL who had trusted Gapura Angkasa as his ground handling choice in Indonesia. He added that currently the frequency of JAL flights at Soekarno-Hatta International Airport has reached 12 times per week, after being suspended for 2 years due to the Covid-19 pandemic.
On this anniversary, JAL flew two planes from Jakarta to Tokyo. The celebration was carried out at night according to flight number JL726 flying at 21.55 WIB. Carrying 139 passengers including one baby, JAL gave a small memento to the passengers who flew that day. The flight to Narita looks lively. Not only that, JAL employees also took passengers to the ground area by carrying a birthday celebration banner that reads 60 years of Jakarta – Tokyo Thank you for flying with us! Thank you for #FlyingBersamaJAL, the staff waved goodbye to passengers and cabin crew until they arrived at the runway, they waved and left with a smile of happiness.